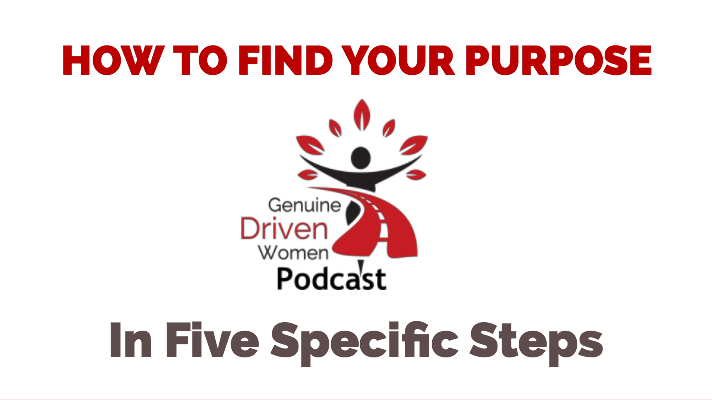 Show Notes for Episode #1
How YOU can find YOUR purpose
Welcome to the "Genuine Driven Women" podcast, the show where we guide women to reveal their strengths so they believe and can achieve their desired greatness!  This isEpisode #1and I am Tami along with my Co-Host, Adalida.  Today we are going tell you our own story, why we are here, and then we will talk about howYOU can find YOUR purpose!
Main topic:  Finding your purpose
We'd to start with a little bit about us, where we came from and why we are here…
Adaldia's Story
Adalida: Now on to finding your purpose!  We are going to give you 5 specific steps you can take to help you find your purpose!
Tami: Thank you, Adalida!  The"Genuine Driven Women" brand was developed to help women, young ladies, and girls become the success they already know they are.  In our intro, we talk about guiding women to reveal their strengths  so they believe and can achieve their desired greatness.
Adalida:  But how do we know what it is we desire the most?  How do we find our purpose?  Does everybody have a purpose?
Tami:  Yes! I definitely believe we all have a purpose.  Some believe they were born with their purpose, some discover their purpose along the way, probably for most, their purpose changes across the seasons of their life.  It is becoming more common for a person in today's world to value purposeful work over financial gain.  If you steer your career or hobbies toward a purposeful path, your life satisfaction will increase and you will be rewarded with exponential motivation and inspiration.
Adalida:  That makes sense, I think we are ready to find our purpose!  What is the first exercise you recommend?
Tami:  One of the ways you can try to find your focus is to Pay attention to the natural topics you want to read or talk about everyday.
Adalida: The second method to find your purpose is toIdentify a person who you admire or see as a role model.
Tami:
This person could be found in history, they could be a successful person you saw in a movie or documentary, a character in a novel, or someone in your everyday life.  Once you find this person, or people, read about them, study them, note what it is you admire and what you'd like to emulate, andWHY.  It is the "why" that is most important in this exercise to focus in on YOUR special purpose.
See the article on Genuinedrivenwomen.com about Tami's friend, Emily, who is a Commanding Officer in the United States Navy.  The Article is called "Curiosity and Courage."
Third, go on an adventure.   Explore the world around you, take trips, join clubs, meet new people, make it a point to try something you have always wanted to try but have hesitated in starting. The internet makes opportunities extremely available, do some research, then take the next step.  The first time doing something new is always the worst and I can speak from personal experience, the leap in confidence when you do try something you thought you'd never do is a rush that keeps on giving!
Fourth, Make a list of your talents and identify the strengths that bring you joy. What are you good at doing?  Where do your natural strengths lie?  Some people revel in detail, numbers, solving problems.  Some delight in helping other people.  Are you strong, innovative, or musically talented?  Are you in your element when you are with many people, or do you prefer quiet activities?
The fifth and final exercise is to brainstorm a list of your own short "life mission statements". Write as many as you can think of in a short period of time.  Just let the ideas flow form your brain, and write anything down that pops in your head.  This exercise is only for you.  Once you have your list (try to write 15-20 purposes) then choose 3-5 form the list and prioritize them according to your desires.
OPRAH WINFREY
"To be a teacher. And to be known for inspiring my students to be more than they thought they could be."
To lead by example, Patience is key, To learn through the storm called life, Success is what you want it to be, You only live once, Practice makes perfect
Time Machine:
In this segment each week we will give a few points about women that have accomplished a lot! We also will discuss a bit about what was happening to women during the time periods.
Time Travel:
One person we think you would like to know more about isSally Ride.
Sally Ride was born in 1951
She became the first American woman who traveled to space in the year 1983
Even though she was an accomplished astronaut, the Press asked her questions like, ""Do you weep when things go wrong on the job?", she responded with, ""one thing I probably share with everyone else in the astronaut office is composure."
When press asked these type of questions that were focused on her being a woman, she was able to divert and explain that she,  like all others she worked with, were able to keep their self control.
She proved to many that women could persevere in any field they wanted to.
During the 1970s and '80s women were just starting to gain more control of their own lives and who they wanted to be. In 1970 the no-fault divorce law went through. This made it easier for women to divorce a man who was cheating or abusing them. Also, in the year 1981 the first woman was appointed to the supreme court by Ronald Reagan. This trend started to follow, where more women began to be voted into offices more frequently.
Book Review:
Genuine driven women read lots of books!  We'll make sure to recommend a book each week that will inspire you or help you on your journey to success!
The Alchemist by Paulo Coehlo
If you'd like to buy this book in any format, including audio books, click this link:  http://amzn.to/2F5X5Q7.
The Alchemistfollows the journey of anAndalusianshepherd boy named Santiago. Santiago believed therecurring dreamhe was having wasan omen, and he was driven to find this dream.  He asked afortune-tellerin a nearby town about its meaning. The woman interpreted the dream as a prophecy, telling the boy that he will discover a treasure at theEgyptian pyramids.  The story gets even more adventurous after that.
I love this book for several reasons, most of all it is a story about finding your purpose.  It is written in a way that it could represent any of our lives, as an analogy for our own dreams, challenges, side ventures, and successes.
Overall, I think the Alchemist is a book that a genuine driven woman should read, multiple times in her life, and anytime her confidence or sense of purpose is waning.   This is a VERY inspirational book!  I have a link in the show notes, if you buy the book through that link, it will give you all the inspiration you need to get 2018 started off right and it will help this podcast get off the ground through our Amazon affiliate link:  http://amzn.to/2F5X5Q7.
Inspirational Quote of the Week:
The secret of getting ahead is getting started.

~Sally Berger
We genuinely Want to know!(Listener questions and feedback)
This is the section where you ask questions, let us know what's on your mind or just say hello!
Are you driven to succeed? Email us at genuinedrivenwomen@gmail.com or call us at (724) DRIVEN-2 or  (724) 374-8362 and leave a voice message.  We'll use your voicemails on a future podcast!
Outro:
The Genuine Driven Women podcast is produced every week for your inspiration, education and enjoyment.  The show notes, and so much more, can be found at genuinedrivenwomen.com.
Please subscribe to this show via iTunes and Stitcher to receive ongoing weekly motivation to turn those dreams into goals and to reach YOUR version of success!
We'd love for you to take a couple minutes to write a review on iTunes, which will help us to reach our goal to connect with girls, young ladies, and women who need just this kind of inspiration each week.  You can also follow us on Facebook at Facebook.com/genuinedrivenwomen/  to join the conversation, get to know us better, and to find about all the new things we will be announcing in the months to come.
SaveSave
SaveSave
SaveSave
SaveSave
SaveSave
SaveSave