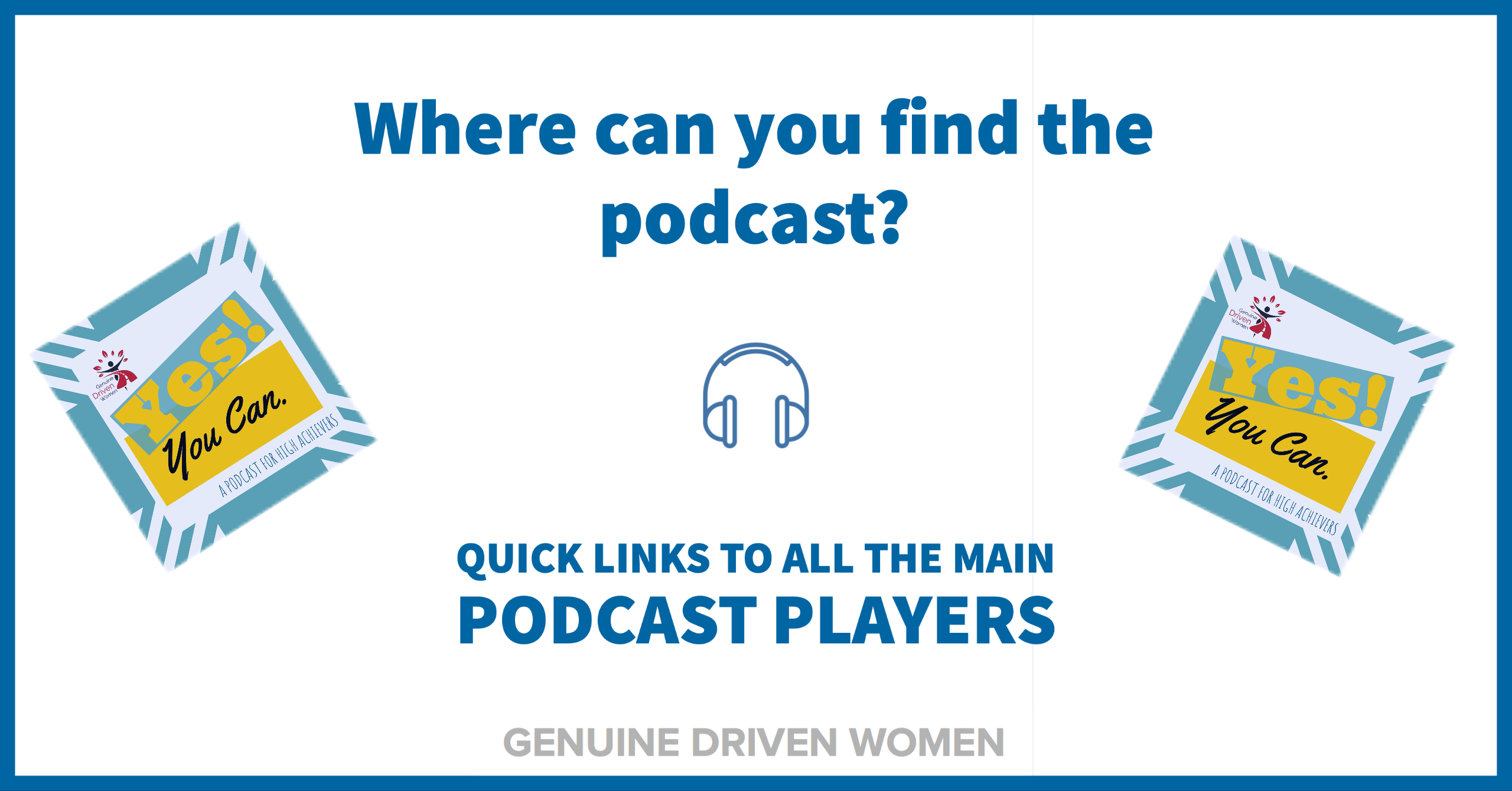 I get a lot of questions about the best way to listen to the "Yes! You Can." podcast
The "Yes! You Can. A Podcast for High Achievers" Podcast is a FREE resource full of inspiration and very specific, direct steps YOU can take to make your reach your OWN version of success.  You can listen straight from your phone, which means you can listen while you are doing housework, driving to work, working in the garden, or really, any task. Take us with you and listen while you GO!
The "Yes! You Can. A Podcast for High Achievers" Podcast can be found via almost every common Podcast Application (app).  Click any of these links to find and subscribe:
Apple Podcasts:  CLICK HERE
Spotify:  CLICK HERE
Google Podcasts:  CLICK HERE from your android device.  Once you have downloaded the Google Podcasts App, search for "Yes! You Can. A Podcast for High Achievers" and subscribe.
iHeartRadio:  CLICK HERE
Stitcher:  CLICK HERE
Spreaker:  CLICK HERE
YouTube:  CLICK HERE 
To listen add our RSS FEED to your preferred app:  http://genuinedrivenwomen.libsyn.com/rss
To listen with your Amazon Smart Speaker, say, "Alexa, play the "Yes! You Can. Podcast."  She should play the last episode you have listened to.
To play right from your computer desktop: CLICK HERE.
If you have a favorite podcast app that we don't seem to be on, let me know and I'll see if I can get this content added. Also, I'd love to get your direct feedback, including ideas you have for future episodes!  Email me at tami.north@genuinedrivenwomen.com or leave a message at (724) 374-8362.
HELP OTHERS FIND THE Genuine Driven Women Podcast:
If you like what we are doing and if you think we could help someone you know, there are three things we ask you so we can keep producing new content:
Please go to iTunes and leave a quick review.CLICK HERE for the link to leave a review.
Please send this information to anyone who needs this type of information
Share it via all your social media accounts!