Even though the number of women leaders who make it all the way to CEO are incredibly small
The current reality
Despite many studies that suggest women rate very high for traits that make them excellent leaders, and for many traits, they rate even higher than most men, there are very few women leaders who actually make it to executive roles. In a PEW research study published April 30, 2018, they found that today only 5.1% of all the companies in the S&P composite 1500 are women, and across those same companies, women only make up 11.5% of all other top executives.  These other positions include roles such as COO, CFO, and executive legal counsel. Unfortunately, most of these women were in financial or legal roles, which were found to be the least likely roles that led to a CEO position. This is true, even though CEOs who had previously been the CFO were much more successful CEOs, when studied after the fact. Executives are often selected for the COO role when they are being groomed for the CEO role.
What all this means to you, is that women may have equal or better leadership traits than most men, but the women who are promoting to the executive level are most often finance or legal experts.  Those same experts, in the rare moment that some of them attain CEO, oftentimes have more success as a CEO.  Yet,
companies continue to undervalue this critical resource of people,
women who are intelligent, driven, dedicated, and have more grit and determination to succeed.
Leadership Effectiveness:  Men vs. Women
The perception of how leadership effectiveness differs between men and women was studied.  According to one major study, published in the Journal of Applied Psychology, they looked at 95 different studies, published over a 40-year timespan.  These studies showed that when all leadership contexts are considered, men and women do not differ in perceived leadership effectiveness. Yet, when other-ratings only are examined (traits rated by other people), women were rated as significantly more effective than men.  In contrast, when self-ratings only are examined, men rate themselves as significantly more effective than women leaders rate themselves.  They found that female leaders were rated by their reports, peers and managers as being just as, if not even more, effective than male leaders. But when males self-reported, they considered themselves to be better leaders than women.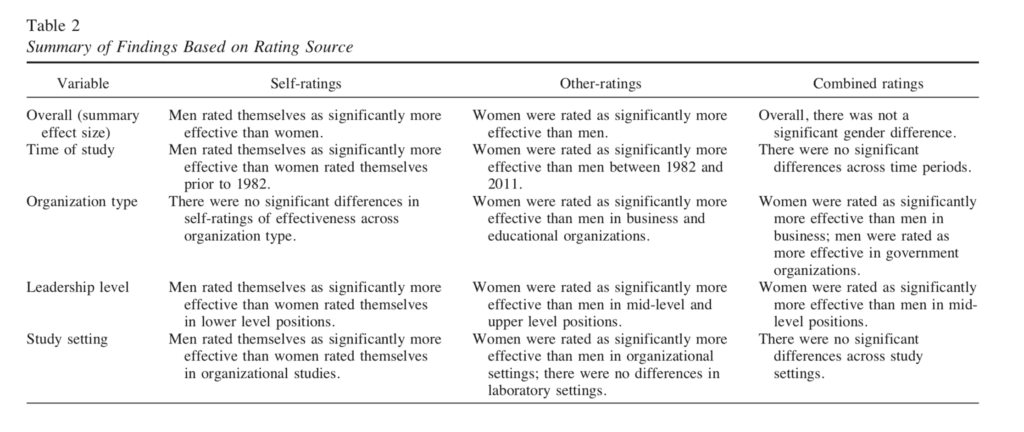 What this means is that if you only have other people rate leaders, women leasers are found to be much more effective.  If you have leaders rate themselves, men are perceived to be much better leaders. As a result, when you combine the two ratings, and consider all the traits and all the ratings, men and women come out basically equal.  Wait…  WHAT? I don't know if you are thinking what I am thinking, but if this is true the women – we have A LOT of work to do!  I see it like this:
Women need to realize the gifts they bring to a team and why their leadership styles are so powerful.
Women leaders are resonating with their teams, getting results, and having influence. Companies need to recognize the up and coming leaders, including women, and give them the opportunities to grow within the organization.
Who is in line to become the next CEO?
In another study at the University of South Carolina, published in 2017, they surveyed 127 Chief Human Resource Officers.  They found that the near-term succession pool for CEO candidates, those who were in the running as a potential CEO in the next 0-3 years were only 10% women in 2017.  Looking a little farther out the 3-5 year candidate pool was only 15% women. These Chief HR Officers said that the pipeline for a potential CEO runs along a 15-year timeline, so it may take at least that long to see any major increase in the numbers for initiatives started today.
Traits that make women good leaders
Strategies women can employ to become a CEO:
In a study conducted by Korn Ferry, they discovered four patterns that eventually led to women becoming a CEO of a major company.  Even if you are not interested in becoming a CEO, these four areas will bring you success, no matter your ultimate leadership goal.
Lifelong learning:  Focus on finding the next challenge.
Get a bird's eye view:  Focus on getting an enterprise perspective.  What is the "big-picture where you fit in? How does you current position fit and who can you work with to solve enterprise level issues?
Innovation and growth:  A focus on building new business or dramatically improving products or processes that save money or time.  (Remember, time directly translates into money.)
Career building:  Focus on pursuing a path. Once the path to where you want to be has been identified, avoid distractions that will hinder your progress.
Critical skills women leaders  should develop:
In the same Korn Ferry study, they discovered six (6) skills that differentiated middle managers from people who became CEOs, and women were found to score twice as high as men on each. If you want to become a senior leader, work on developing these six critical skills:
Engage and Inspire – creating an environment where people are motivated to achieve the company's objective
Develop talent – developing people to reach their career goals and the organization's goals
Builds effective teams – assembling and leading teams that employ diverse skill sets and perspectives to achieve common goals
Directs work – Providing clear direction and removing obstacles so work gets done efficiently
Courage – Stepping up to address difficult issues and saying what needs to be said
Manages ambiguity – operating effectively, even when things are uncertain or the way forward is unclear
Two career stages were found to prepare women for CEO roles
Stage 1 is Building credibility:  Show indisputable results, establish a reputation for success, earn the respect of peers and bosses, position themselves at the core of the business
Stage 2 is Broadening Experience:  Pivot to leadership roles when the opportunities arise and then prove you get the most out of diverse teams.  Demonstrate agility by taking rotational assignments in other regions or if it applies, even internationally.  Develop your executive presence, courage and your ability to inspire others.
Summary
Remember, your ideas and vision are important.  You have a voice and ideas and you can make an incredible impact on your organization.  Focus on becoming a life-long learner and work on the six skills and other concepts we discussed today, then STICK WITH YOUR PATH.  You will be well on your way to becoming a senior leader. The women leaders that put this drive and focus into play, the more women who will become executives, high potential candidates for senior leadership, and also the pool of potential CEOs will dramatically increase.  
Paustian-Underdahl, Samantha C.,Walker, Lisa Slattery,Woehr, David J.
Journal of Applied Psychology, Vol 99(6), Nov 2014, 1129-1145
SaveSave
SaveSave
SaveSave
SaveSave
SaveSave
SaveSave
SaveSave
SaveSave
SaveSave
SaveSave
SaveSave
SaveSave
SaveSave
SaveSave
SaveSave
SaveSave
SaveSave
SaveSave
SaveSave